Did you know the US alone is a country of 43M moms? Yes, it's mind-boggling! Considering this, it comes as no surprise that while May approaches, most flowers and plants are designated for one very special holiday: Mother's Day. That's why we took the liberty to help you in this serious quest of finding the best flowers for Mother's Day before it's too late (yes, we're looking at you, procrastinators)!
Your mother's love is what shaped the person you are today. Even on the days she had to juggle a million jobs, somehow she still found time to give you love and attention. Marvel's superheroes really can't hold a candle to moms! Flowers may seem like a simple gift, but they'll surely put a smile on your mother's face while also adding a pop of color to her living room or kitchen.
Now, on to the difficult question: What blooms make the perfect gift for YOUR mom? Not all moms have the same taste. Fortunately, our experts took some time to sort through our countless options and select the "crème de la crème". Lucky you! So, for those of you who want to make your life easier and at the same time brush up on your floral linguistics, we present the best flowers for Mother's Day. Enjoy!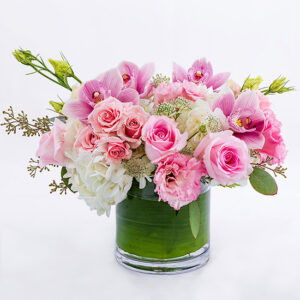 Beautiful Roses
Name a woman who doesn't love roses! Roses are a go-to choice when it comes to flowers, making them the perfect gift for a more "traditional" mother. Typically associated with romantic love, you want to skip the red color. Instead, choose varieties of pink, which is a symbol of appreciation and gratitude. It's only fitting since your mom is one of the most important people in your life! Shop here

All-Time Classic Carnations
Carnations are considered by many the best flowers for Mother's Day since they're the official flower of the holiday! Signifying deep love, tenderness, and admiration, they capture the mother-child bond like no other. They also get bonus points for being one of the longest-lasting cut flowers you can buy. Literally, a gift that keeps on giving! Shop here

Colorful Tulips
Tulips are the tell-tale sign that spring is here! They come in all sorts of colors so if you're not set on just one, simply surprise your mom with a vibrant rainbow showstopper! The true queens of spring will surely bring a smile to her face! Shop here

Elegant Orchids
Lush, showy orchids symbolize deep love, strength, and beauty. Now that's a combination that perfectly sums up mums! Also known as the moth orchid or moon orchid, Phalaenopsis orchids are low-maintenance beauties ideal for the busy mother. All she'll need to do to enjoy blooms for many months to come is place them in bright, indirect sunlight and water them. Not everyone has a green thumb after all! Shop here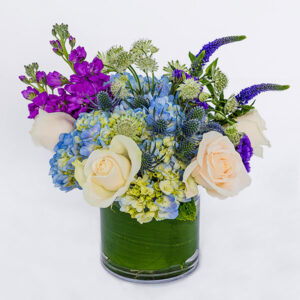 Eye-Catching Hydrangeas
The abundant, lush flowers of the hydrangea plant perfectly encapsulate the endless support and love of a mother towards her child. It doesn't take many hydrangea stems to create a truly spectacular show, their blooms are the size of a softball! Shop here

Lush Lilies
Another Mother's Day favorite, lilies always steal the show. Elegant and classy, just like she is, who wouldn't gush over a bouquet of graceful lilies? Their imposing, big flowers come in a variety of colors, soft and bold, so choose the color just right for mum. Don't forget – they last a long time and smell lovely too. One of the many reasons they're associated with motherhood is because according to Greek Mythology, lilies were created from goddess Hera's breast milk. We hope you don't change your opinion about them after that origin story. Sorry! Shop here

Lovely Lisianthus
The saying "good things come in small packages" couldn't be more true when it comes to the lovely lisianthus. This sweet little flower adds grace to any arrangement. We suggest that you mix it with bigger blooms and an abundance of lush foliage and you'll have a breathtaking bouquet, certain to make mom's day, or year! Shop here

Daisies
Did you also make bouquets of dandelions for your mama when you were little? Their beauty certainly fits nicely with their meaning – they symbolize cheerfulness and innocence. These sweet wildflowers come in many colors, though the iconic white with a yellow center is like no other.
A bouquet with wildflowers is a grown-up way to capture that free spirit, plus you don't risk getting stung by bees. It's a win-win! Shop here

Peace Lily
We know this isn't a flower, but we just couldn't resist. The Peace Lily is the perfect Spring gift! Their wide variety makes houseplants such great Mother's Day gifts. Some are low-maintenance and easy-going while others require a little more attention. Let's not forget about mums that are well-versed in all things green-fingered. They'll so appreciate a new plant to look after! Shop here

Designers Seasonal Mix
When in doubt, mix and match! Still can't decide on the best mother's day flowers? Whether it's because there are too many emotions you want to express or because mom's got (too) many favorite flowers, there's a way you can tick off everything on your checklist. Our experts will consult with you, and create the most beautiful, perfectly curated bouquet with the freshest blooms! And voila, you've got magnificent flowers to melt your mom's heart instantly. There's no hit or miss with this approach. Trust us, it's always a hit! Shop here
For a Mother's Day present that'll give her heart eyes, choose between these vibrant tulips, classic roses, bursting carnations, and other beautiful varieties we have listed. There are few better gifts for moms than a bouquet of fresh flowers for Mother's Day. Even those who ask that you buy them nothing will be pleased!
Are you looking for a bouquet as beautiful as your mom? At Rachel Cho Floral Design, we help you find the perfect blooms to let your mom know just how much you care. We create inspired, lush arrangements with superior quality flowers, for every occasion! Don't miss your chance to show her how much she means to you! And for any fellow procrastinators, we can ensure your orders will be delivered on time.