Your wedding arch is an important focal point for your event, and will undoubtedly feature prominently in the pictures that capture your special day. Thus, you may be feeling anxious about making sure this critical element of your floral design really captures the feel you're going for. Not to fear—your wedding arch offers a wonderful opportunity to create a beautiful backdrop for your most meaningful moments, with a great deal of flexibility in how it is created. Just keep a few tips in mind:
1. Design for your venue
The first thing to consider is where your arch will be placed. If you're having an outdoor ceremony, or one in an indoor space that is relatively open (a ballroom or an industrial-chic venue, perhaps), an arch is a great anchor for defining your ceremony space. Be sure to keep the size of the arch to scale in the location where you want to place it for the best visual impact, so it neither overwhelms nor gets lost in the area it is meant to enhance.
2. Stay in keeping with your overall aesthetic
This is obvious, but the style of your arch should coordinate with the overall theme of your floral décor. A lavishly romantic arch full of cascading blooms is going to look out of place if the rest of your arrangements are spare and modern.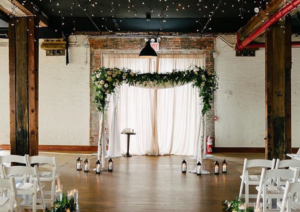 3. Consider getting creative with the frame
The material you use to construct your arch can go a long way toward setting your style apart and creating a unique look. If you check out modern arches, you'll probably notice that the frame you are least likely to see these days is a stereotypical white lattice. Think bamboo, natural branches, or metal, for example. The exact shape of your arch can be variable as well. Your guide should be what suits your style and venue best.
4. Go for balance rather than symmetry
Asymmetrical styling, both in the shape of your arch and the arrangement of flowers and other embellishments on it, can provide eye-catching interest. The ideal is to have an arch that looks balanced overall, but achieving that doesn't require rigid symmetry.
5. It's not just about the flowers
A beautiful arch design will often include elements other than flowers alone to complete a charming look. Incorporating elegantly draped fabric, ribbons, greenery, and/or lights give you a wider scope to achieve the particular effect you're aiming for. Varied materials can also give you the opportunity to juxtapose different textures for greater visual interest.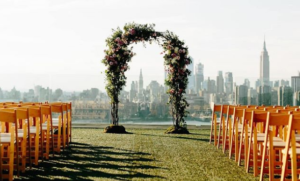 At Rachel Cho Floral Design, we love working with wedding couples to create the setting that will launch their future life together. Our designs combine your wishes and inspiration with our deep floral expertise for results that are uniquely devised to bring your vision to life. From the first consultation until the last petal is in place, we provide dedicated customer service, superior design, and the freshest of quality flowers. To find out how we can help with all your floral needs, contact us today.