Unless you plan events for a living, putting on a wedding can seem like a daunting challenge. With so many elements to pull together to create a harmonious whole, there are countless details to consider and arrange. The right wedding florist won't just provide pretty flowers—they'll have the expertise and artistry to create a gorgeous look for your special day, and the professionalism and dedication to pull it off seamlessly. Here are some tips for finding the right florist for your wedding:
1. Start early: Flowers will likely be one of the primary features of your wedding décor, so they aren't something you should throw together at the last minute. In addition, if your wedding is scheduled for a popular time of year, the best florists will book up well in advance. Ideally, you should find your florist right after you've booked your venue because then you'll know what you'll need flower-wise and the aesthetic you're going for.
2. Gather ideas: You undoubtedly have some idea of what you want your wedding flowers to look like, whether you can name the individual types of flowers you like or not. Is your vision modern and minimalistic, or romantically lush? Finding pictures of wedding flowers you like can help direct your conversations with potential florists in terms of the colors, textures, and overall style you're looking for. (Pinterest is a great tool for this!)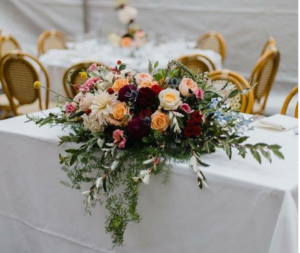 3. Set your budget: While the amount you're likely to spend on flowers will depend on many factors, including how many arrangements you need and the types of flowers you use, it's essential that you have a figure in mind when you set about finding a florist. This will help you narrow your search to florists who are in your price range.
4. Get recommendations: Recommendations can come from many places—friends or family who've recently had weddings of their own, bridal magazines, your wedding coordinator, review sites, and more. Once you have some names to consider, check out their websites and online reviews. You want a florist who is reliable, whose taste appeals to you, and who will work with you to make your vision a reality.
5. Schedule consultations: Once your list is down to a few promising florists who have availability on your date, make appointments to meet with them, go over your needs and ideas, and get their proposals. This is your opportunity to ask questions about their process and the details of their service.
6. Review your options: Once you've interviewed your potential florists and gotten quotes, it's time to make your decision. Keep in mind that there's more to this decision than the bottom line—you may find that the florist who offers the most in terms of designs you love and quality service is a little pricier than your other choices. Go with your instincts and hire someone you trust to get the job done right so that you can relax and enjoy your wedding.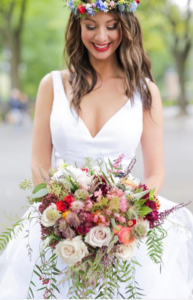 At Rachel Cho Floral Design, we know that every wedding is unique. Our creations draw their inspiration from your aesthetic, using the best blooms of the season to transform your venue into your vision. From the first consultation to the final touches, you can count on attentive, collaborative service. To find out how we can help with all your floral needs, contact us today.