Wedding planning season is upon us and that can only mean one thing: Let the wedding bouquets bloom! Have you spent hours upon hours dreaming about your perfect day , but can't seem to have all the details right? Let's take it one step at a time and find the perfect flower match for you and your wedding. One thing is for certain, we have all the answers when it comes to the perfect wedding bouquet. With countless options available online it can get a bit stressful. That's why we have gathered a few of our favorite creations from over the years to give you inspiration depending on the overall theme and style of your wedding.

Summer Lovin'
Summer lovin' happened so fast. When choosing a summer wedding bouquet we typically like to go with lighter flowers to represent the season. Still, that doesn't mean you should only use pinks and whites in your color palette. When it comes to summer weddings, we like to go a bit more playful like we did with this bouquet dressed in pastel pinks, lilacs, and peachy tones. Adding a touch of greenery to your bouquet will give it that "breath of fresh air", summery feeling.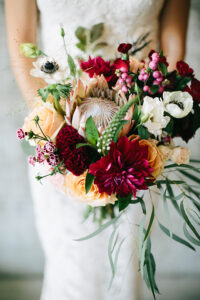 Forest Fantasy
Do you want to live out your forest fantasy? When it comes to a forest wedding, dark maroons with contrasting whites will be your best friends. We like to add touches of pale yellows and hints of magenta like we did here, to really elevate the look of your forest fairy bouquet. Pro tip: Don't be afraid to mix unconventional types of flowers with traditional bouquet flowers like roses with white poppies.
Natural Beauty
Looking for a way to keep your wedding look on the traditional side with a touch of peacefulness? This natural beauty bouquet is perfect for a soft and classy wedding look. Playing with the textures of peonies and roses while staying in a soft wedding pallet of whites, light pinks and hints of purple will give your bouquet a dreamy look.
Love Story
Is your ideal wedding bouquet a ravishing cluster of flowers that looks like it was written by poets? This love story inspired bouquet plays on the idea of a traditional bouquet by keeping the light earthy tones while adding pops of deep reds , hints of peachy colors and a touch of snapdragons to give it that romance novel look. Finishing everything up with a long and flowy sheer ribbon like we did for this bouquet is the perfect way to tie it into your love story wedding.
Color Hunt
Nothing makes us happier than color. Do you want to make a statement with your bouquet? Are you going for that bright and colorful look with your wedding theme? Then you might want your bouquet to look something like this. For our bride here we went with some beautiful bright tulips in red , orange and yellow shades with touches of purple that are the perfect addition for a vivid theme to brighten up your special day.
A Game of Chess
Do you live for contrast and the idea of having a black and white themed wedding makes your heart beat a little faster? We say go for it. This gorgeous wedding bouquet looks like it came straight out of a movie. It plays with very deep maroon shades that almost look black and when compared to the bright white flowers we paired them with it comes together beautifully for a black and white kind of look.
All-Time Classic
Do you dream of royalty and class? A charming bouquet like this could be the perfect inspiration for your wedding look. Staying on a very light color pallet like we did with this bouquet and mostly using whites and soft pinks while adding a hint of light purple will give an airy and fresh feeling to your look while also exuding a sense of calmness. Picture yourself walking down the aisle while holding an all time classic bouquet like this. It's truly picture perfect.

Spring Dream
Last but not least is this spring dream bouquet. Spring time is the best time for inspiration. A lot of flowers are in full-bloom and your options for shades and shapes are endless. In this pastel spring dream bouquet we have mixed in light blue blooms with pops of white and hints of peach to complement the bride's stunning gown.
Have you found your dream bouquet yet? We certainly hope we inspired you with our lovely creations. The possibilities are endless when it comes to your special day flowers. You can stick to neutral colors , bright and vivid flowers, or dark creations depending on your preferences. If you haven't found your personal favorite yet don't worry. The elegant wedding looks we've been creating since 2005 offer some Pinterest-worthy inspiration!