Flowers come in so many different shapes, sizes, colors, and smells, and each portrays varying aesthetics. Even if you have no idea how to pick wedding flowers, we promise it's an exciting part of the planning process! Already have a few favorite blooms in mind? There are several other things you should consider when it's time to pick your wedding flowers, such as season, colors, and style, so be sure to brush up on the basics right here. 
There are a few more tips that will help you stay focused and in-the-know. Let's continue right where we left off!
Add some Color to your Life
If you're feeling completely baffled about your wedding flowers (we understand, there's so many to choose from!), think of them in terms of color to scale down your choices. Your wedding flowers don't have to be an exact match with the rest of your décor, but we recommend using your wedding color palette when choosing your florals. Take a look at the colors being used for your invitation, attire and table linens. If you do want the flowers to be a perfect color match, be as specific as possible when discussing them with your florist – what you call "light orange" could be coral pink to someone else. Once you have your wedding colors figured out, pick florals in those colors.
Here's a small guide: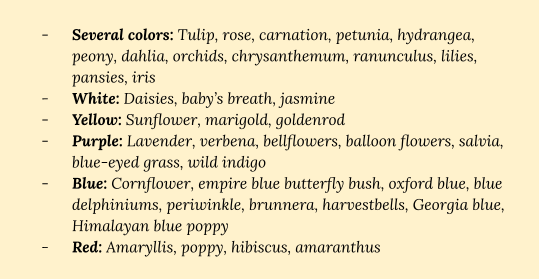 Season
Think about the types of flowers that are normally seen around the time of year when you're getting married. There's no rule that says you can only use flowers if they're in season. But here's a few reasons why you should: 
Easier for your florist to find 
Lower cost for you
In-season flowers look more beautiful
Better for the environment – smaller carbon footprint 
There's no better indicator of your wedding's season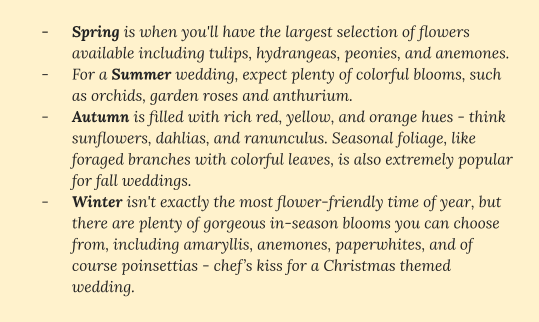 If you or your fiancé(e) is carrying a wedding bouquet down the aisle, use that as your guide. Your bouquet is a statement piece that will appear in most of your photos. Hence why it's important to work together with your florist to design an arrangement that encapsulates your style. Once you've put together the bouquet, your florist can continue with the other arrangements, such as bridesmaid bouquets, boutonnieres and centerpieces. It's not necessary for these to be exact copies of the bridal bouquet, but they should have similar flowers and color schemes to create a coherent look.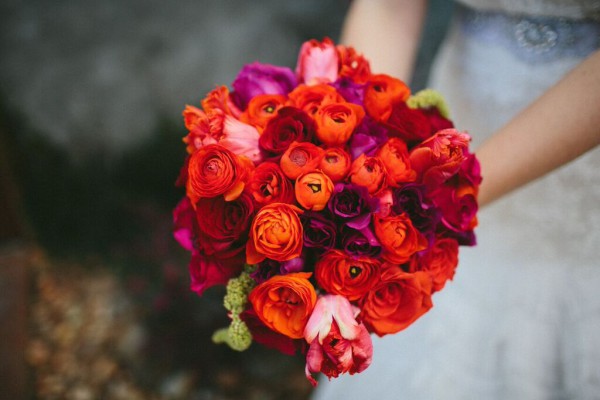 At Rachel Cho Floral Design, we pair a passion for an original design with a commitment to superior customer service. We collaborate with our clients to capture their vision with dynamic, unique arrangements. Contact us today for help with all your floral needs.