When you're busy thinking of what to do for your mom on Mother's Day, you may inadvertently overlook another mother in your life—the mother of your children. Letting your wife know how much you appreciate her role in keeping your kids healthy and happy is something that hopefully you're doing a little bit every day, but it's especially important to make her feel that she is seen and valued on Mother's Day. Here are some dos (and don'ts) for making it a special day for her.
Set an example: Mother's Day is a great opportunity to teach your kids about recognizing and expressing gratitude for the things other people do for them. For younger kids, you can take them to pick out a card and crayon scribble their name inside. Slightly older kids may want to help make a gift or plan a Mother's Day outing. However you get your kids involved, your wife will appreciate your serving as a role model and encouraging them to be aware of the things she does every day to keep your family life humming along smoothly.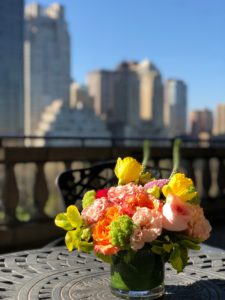 Plan something: Mother's Day does not have to be a day of grand gestures, unless that is what your wife prefers, but you should put some forethought into whatever you decide to do. Maybe you simply intercept the kids before they wake her up in the morning and engage them in preparing breakfast while she gets a few delightful moments to lounge in peace. Maybe you plan an outing to her favorite park. Whatever you do, having a game plan tells her that you cared enough to think ahead about what would make the day meaningful for her.
Make time for her: If you have one or both of your extended families nearby, it can be complicated to know who to prioritize—your mother, her mother, or her. Even if you have a larger family celebration planned, make sure you take some time in the day to put your wife first. Offer to take on the planning and execution of any events celebrating your respective mothers, and then follow through so that she can truly take a break on Mother's Day.
Don't overlook the classics: Traditional Mother's Day gifts are time-honored for a reason—because moms like them.
Have a beautiful bouquet of her favorite flowers hand-delivered. Flowers are a lovely mood-booster, and she'll be able to enjoy them for days afterward.
Help the kids compose a hand-written card. She'll appreciate the sincere sentiment now, and the memories of their younger days when she pulls it out to reminisce in years to come.
Treat her to a meal that she doesn't have to prepare and that doesn't center around the kids' favorites. (Tip: If you cook yourself, make sure you clean up too! A spotless kitchen afterward will be a bonus she won't forget.)
Sincere appreciation is the key to making her Mother's Day special. At Rachel Cho Floral Design, we can help you find the perfect flowers to let your wife know how much you care. We provide superior quality blooms, inspired design, and attentive customer service to our clients for every occasion, large or small. For help with all your floral needs, contact us today.