There are very few celebrations that are as joyous or momentous as marking the impending arrival of a new baby. When you're getting ready to help a friend or relative usher in this new chapter of her life by throwing a baby shower for her, you want to be sure the decorations set a warm, charming, and comfortable tone for the party. Here are some tips for creating a festive environment.
Most baby showers are thrown in someone's home—either the hostess's or often the mama-to-be's, to eliminate the need to transport the helpful gifts she and her little one receive to another location. (If you have an exceptionally long guest list, however, you may need to look into having the shower at a restaurant or other location large enough to comfortably accommodate everyone.) Keep your decorations to a scale that suits the space and the size of the party for a just-right feel. In general, sweet and simple is the way to go.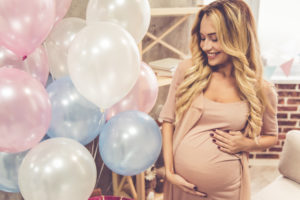 Picking a theme can give you a direction for unifying your decorations. For example, you can use a color theme if you know the baby's gender (pink or blue), or even if you don't. A white-and-green palette, sunny yellows, or even a colorful mix of bright hues can convey the excitement of the day without specifying "boy" or "girl." If the baby's parents have already chosen a nursery theme, that can be extended to the shower as well.
Fresh flowers are a great place to start. Arrangements can be tailored for any type of theme from whimsical to elegant, as well as for any color scheme. Flowers aren't merely beautiful—they're also a mood-lifter. In addition to your centerpieces, place a series of small arrangements around the room so that everyone can enjoy their charm. (Do keep in mind that during pregnancy, the sense of smell is enhanced. You may want to avoid strongly scented flowers so your guest of honor isn't overwhelmed. A knowledgeable florist can help you choose lovely blooms whose scent won't be over the top.)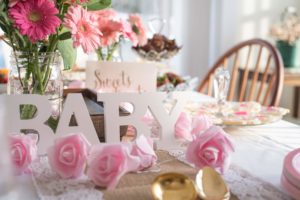 Balloons, garlands, and banners are easy decorations that help extend your display upward. Streamers can also serve the same purpose, or you can string a clothesline to create a unique decoration by clipping baby items like onesies and socks to it with colored clothespins. Keep in mind that the presents your guests will bring will most likely be appealingly wrapped. Drape a table in a color-coordinated tablecloth and designate it as the gifts table, so the presents can be part of the décor. Using disposable cups, plates, napkins, or utensils? Purchase them in colors that fit in to make them part of the overall decorating scheme.
If you're planning a baby shower or any type of celebration, Rachel Cho Floral Design can create the perfect flowers for your occasion. We put our expert floral knowledge, innovative design, and impeccable customer service to work for our clients every day. To find out how we can help with all your floral needs, contact us today.