Summer is the season when gardens come alive with abundance and the farmer's markets and bodegas are full of beautiful varieties of cut flowers for sale. Putting together a centerpiece is a great way to bring some outdoor charm indoors to enjoy, whether you're hosting a party or would just like to indulge yourself. With so much to choose from, making a lovely centerpiece is quick and easy.
First, I'll emphasize that your best guide is Mother Nature. The flowers that will be the healthiest, and thus look the best, are those that are in season right now. Thankfully, in summer that means you'll have many varieties to choose from. Go shopping with an open mind and look for flowers that have green foliage (not wilted or dried out); firm, clean stems (not slimy); and buds that are just starting to open (just hitting their peak rather than past their best). It's better to be flexible about the elements of your centerpiece so you can select the freshest options rather than have your heart set on a particular flower and settle for less than the best.
If you have a sense of the general feel you would like your centerpiece to have, such as romantic or cheerful, this can help you decide on what colors and types of flowers and foliage to select. It also helps if you know what vase or container you'd like to use. For example, for a dramatically understated centerpiece, you might want to use a sleek, straight clear vase, while an oversized mason jar or a thrifted ceramic vase may make the perfect base for a rustic creation. Having the container in mind will help you select flowers that will be in proportion, as well as help you decide how many flowers you should buy to ensure your resulting arrangement is full and lush. (If your chosen container is too large, awkward, or fragile to take with you while you shop, take a picture on your phone for reference.)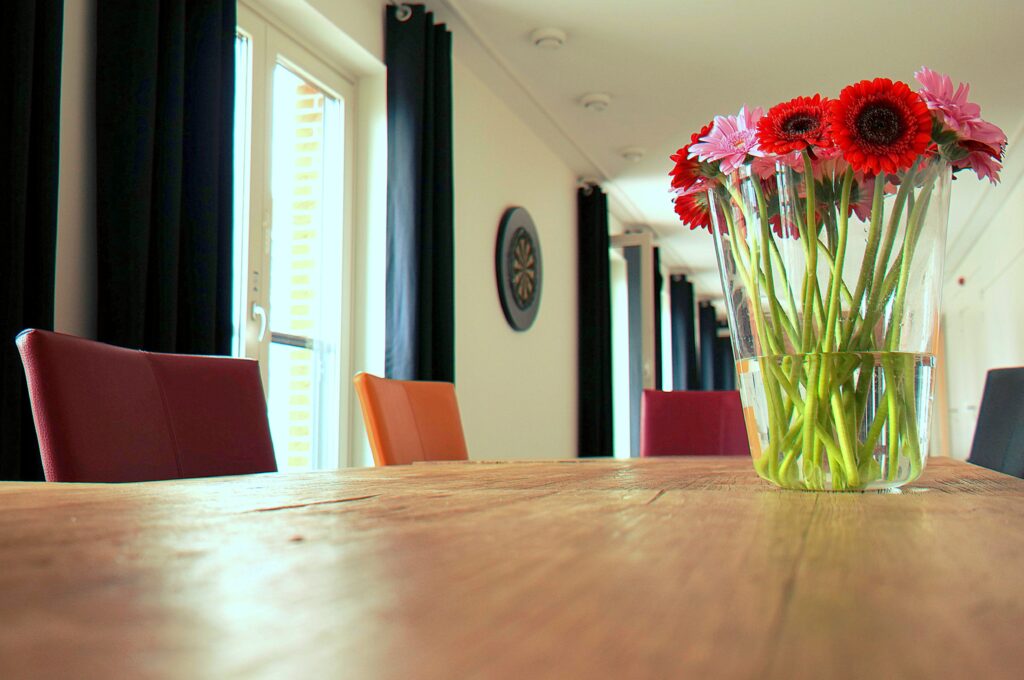 Don't be afraid to mix and match colors and textures. It can be fun to throw in some interest by adding an unexpected pop of color—like adding some thistles and delphinium to a bouquet of white garden roses for a blue accent. And don't neglect the greenery! Choosing the right foliage to complement your flowers can really help to establish a tone. Delicate tree ferns give your creation a different feel than eucalyptus, for example.
When it's time to assemble your flowers, recut all of the stems and clip off any leaves that would sit below the water line in your container. You'll want to rotate your container as you add flowers, because a piece that sits in the middle of the table needs to be attractive from all angles. Varying the height of the stems will help make your arrangement look full from the sides as well as the top. You may have to move things around to achieve a good balance, and that's perfectly fine! The process of finding what works is part of the fun of designing with flowers.
At Rachel Cho Floral Design, we think fresh flowers add a little something special to every day. We provide our customers with superior service and unparalleled expertise, whether we're designing a single bouquet or an entire event. Contact us today for all your floral needs.