The covid-19 pandemic has forced a new lifestyle in most- if not all- aspects of our lives. A major impact hit the soon-to-be-married couples who had to cancel or postpone their wedding ceremony.
And while we know you'd love to be surrounded by your dearest people, unfortunately currently this is very hard. But that doesn't mean you should keep yourself from your big day! You can still create the most memorable and incredible wedding day just…. Virtually.
Sounds complicated? It's not! We prepared a full guide on how to plan a zoom wedding. Take your pen and notepad out and keep notes. As they say, "the party must go on!"
Zoom offers free and paid subscriptions. For $14.99 per month, you can host 100 attendees and meet for up to 24 hours. That's enough time for both a ceremony and reception! With Zoom, attendees have to View options. Either the Speaker View where3 guest just watch the ceremony or Gallery View where your guests can turn on the camera and you can see them as well.
Of course, you can continue the broadcast with Zoom during your party and let your family and friends give speeches, watch your first dance and even cut your cake!
As you probably already know, technology is super important for your virtual wedding ceremony. At a minimum, you need a laptop or tablet and a phone with a hi-res camera. You will also need a tripod to set your device in the right height and keep it steady. Make sure to run some tests before your big day to ensure that everything works well.
Pick the Right Time of Day
As you might have guessed from the title lighting is everything. Try to pick a time with as much natural light as possible. We suggest the evening and the sunset for the best results. If you have enough space, an outdoor virtual wedding is the best option.
It goes without saying that you need to consider your guests' schedules when picking the date and time. If you have family in different timezones you should pick a convenient time for both parties.
Coordinate with Your Vendors
What's a wedding without a few beautiful floral arrangements? Even though you are hosting a virtual wedding, there are still things you need to organize. An important vendor you shouldn't miss is the florist. Your space has to look beautiful and you still need to have the perfect bouquet. So you need the freshest and most elegant flower arrangements delivered right at your door. We, at Rachel Cho, have catered zoom weddings with great success. If you don't believe us, believe our customers!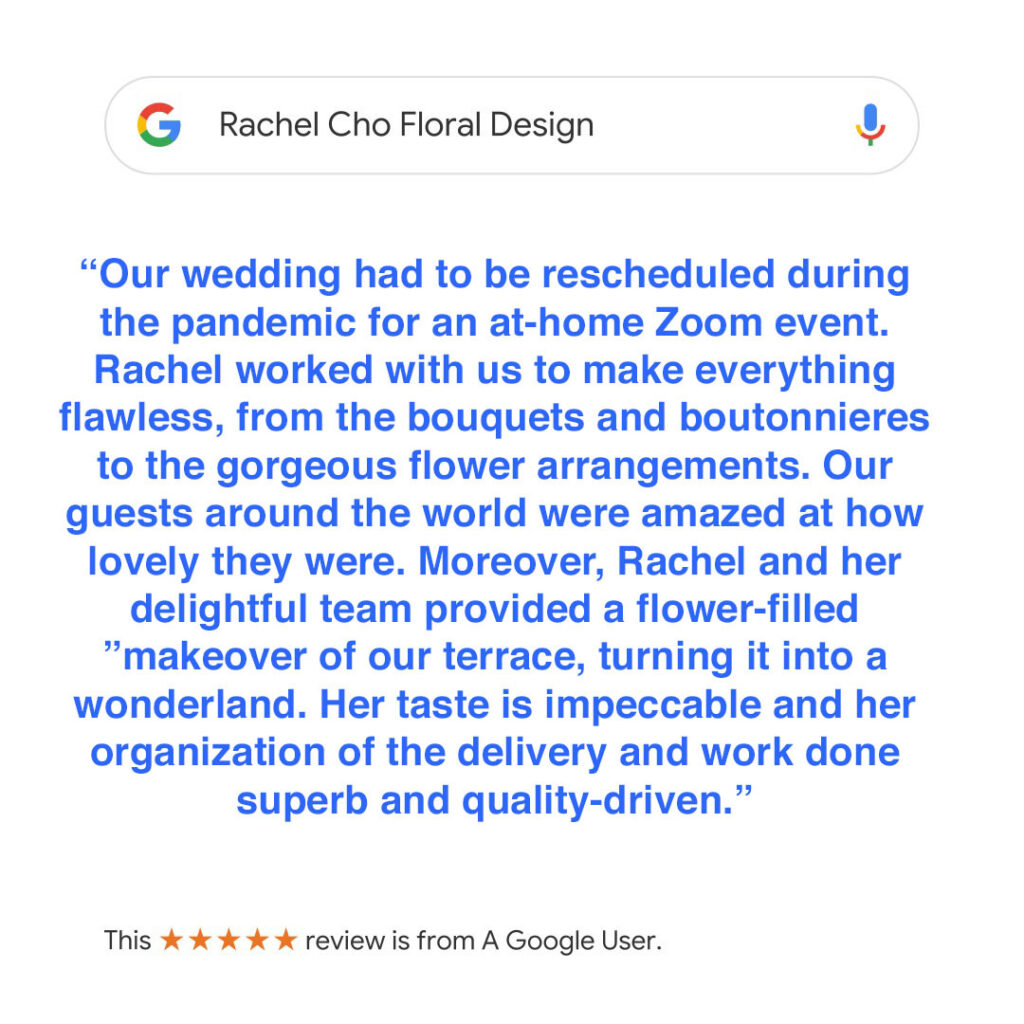 Another vendor that comes handy with all that tech is a photographer. After all, you'll want some pro pictures for your wedding album. Just ensure to keep the social distancing when capturing all your wedding day glory. 
If you are the traditional type that cannot make it without ceremonial cake-cutting, arrange with your baker to prepare a smaller cake just for the two of you.
Paper invitations are replaced with e-invitations. Emphasize what your guests will expect. The date and time should obviously be on there, mention of the forthcoming Zoom link with more info, RSVP details, and dress code; if you have any. 
If you are holding a wedding party you should also mention it in the invitation, along with instructions of a possible champagne toast, speeches. Include a timeline on what happens when during your Livestream.
You should also include a follow-up email with instructions for your guests on how to turn on their video and ask them to remain muted during the ceremony. Ask your guests to RSVP, as you normally would, so you know who to send gift baskets to if desired.
Who doesn't get excited prepping up for a wedding party? Exactly our point! Inform your guests about your desired dress code and get them even more excited about the occasion.
You can also suggest a Zoom background so they feel more relaxed about being home. Extra win: you get beautiful photos!
Order the Perfect Wedding Meal
It's your wedding day, just virtually! Of course, you need to order the perfect meal for you and your partner. Plan your menu based on your favorite flavors or revive a past romantic dinner. If you want to share a meal with your guests, you ask your caterer to create custom dining boxes and deliver them to your guests' houses.
Prepare an Groovy Playlist
Music is the key to a perfect party. Take your time to curate a playlist to include your favorite songs. You could also ask for favorite songs and have a dance party together!
It might sound silly but it's very important! People tend to forget the capture the most precious moments while they're having the time of your life. 
You can designate one guest or your maid of honor to take screenshots of your attendees' reactions throughout the ceremony and the party to include in your wedding album. Even if you hire a photographer, you will still want to capture screenshots of your loved ones.
Send Your Guests a Thank-You Gift
Since your guests won't be physically present at your wedding, it's a nice gesture to send a small gift to thank them for taking the time to be there for you. This could even be the dining box for your wedding party.
We know it sounds cheesy, but it is the truth. It is your big day, you are marrying the love of your life and you deserve to enjoy it to the fullest. Make your wedding about the experience and spending time together with your partner planing your Zoom wedding.
All that's left to do is say those "I do's". Whether you decide to keep things simple or boost the experience for your zoom guests by sending dining boxes or thank-you gifts, it will still be unforgettable to celebrate the beginning of your new life with your loved ones.