Hosting Thanksgiving can be a monumental task, and it's no wonder if contemplating all the work involved might fill your heart with a sense of dread rather than gratitude. However, hosting the party and enjoying the party don't have to be mutually exclusive. Here are some tips for getting organized and enlisting help so that you and your guests can have a lovely dinner together.
You don't have to go it alone—in fact, you shouldn't. Thanksgiving is traditionally a day you spend with family and/or close friends. It's very common for the meal to be a potluck affair, with guests tasked with bringing side dishes and the host responsible for the turkey, so don't be shy about asking. This will lighten up the load on your kitchen. You can even buy parts of the meal rather than making them from scratch—after all, if the bakery down the street makes divine pies and you don't have time to bake, picking up dessert will make a happier Thanksgiving for both of you!
Outsource where possible. There are many meal-adjacent tasks that can easily be given to professionals to handle so you have less on your plate. For example, hiring a cleaning team to give your home a polish before you have guests over saves you time and stress. Likewise, having your table centerpiece delivered from your favorite florist will ensure that you have beautiful blooms on your table in the time it takes to make a phone call.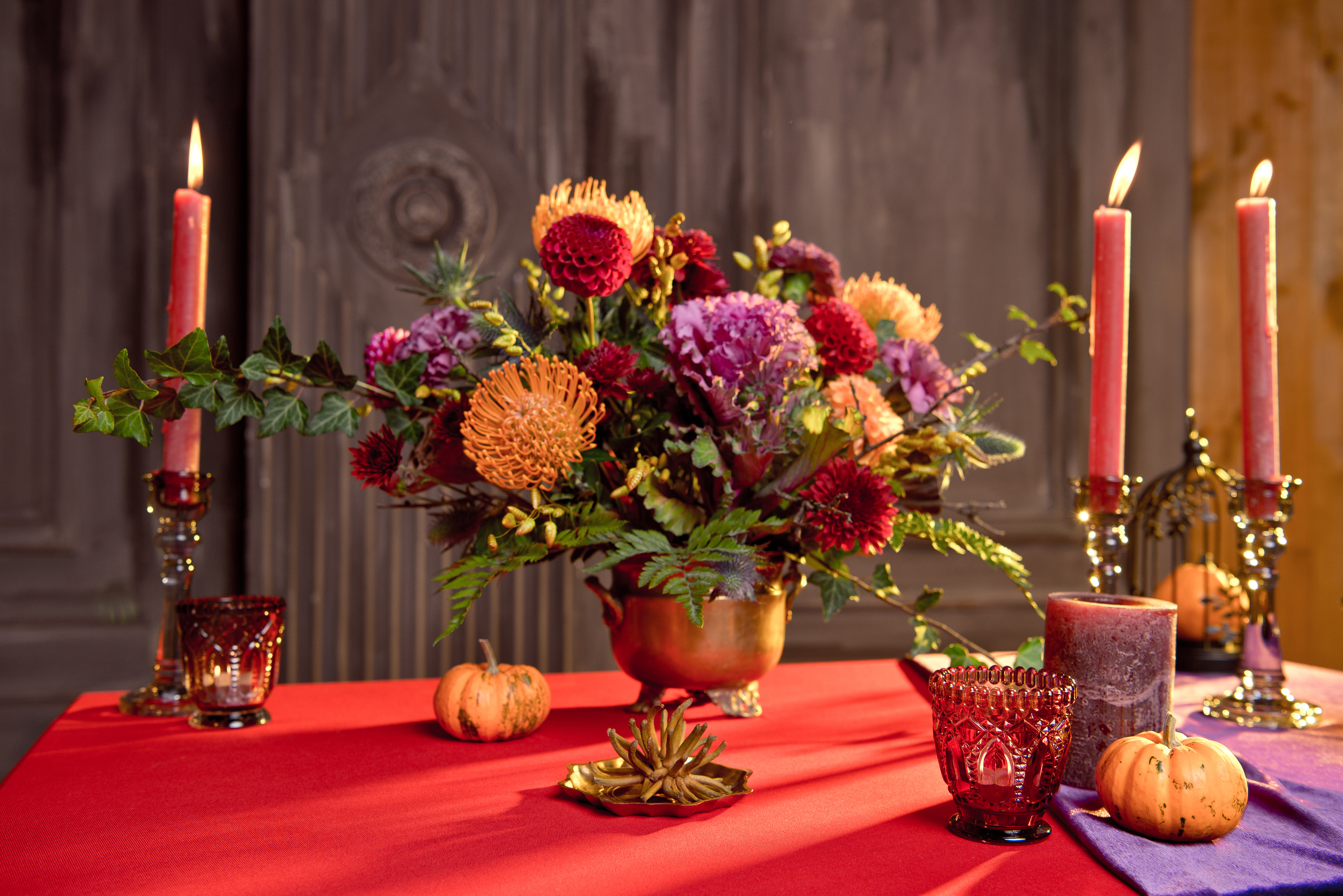 Plan ahead and make ahead. You'll feel calmer when you've got a grasp on the big picture, and the best way to do that is to plan ahead. Make yourself lists of who's attending and who's bringing what, make a grocery list of the ingredients you need to purchase, and draw up a calendar of what needs to be done when. This includes preparing dishes or parts of dishes that can be made ahead and refrigerated. Taking care of things that can be done ahead of time will make the actual day much less hectic.
Keep it simple. When you host a regular dinner party, you might have a lavish spread of appetizers, or use the occasion to try out a new gourmet recipe you think your friends would like. For Thanksgiving, neither of these things is necessary. If you're about to sit down to a lavish meal (hopefully one you've gotten a lot of help with!), there's no need to load up on appetizers first. A new, complex recipe you've never tried before might not go to plan, and nobody wants to deal with that if they have fifteen people waiting to eat in their dining room. Stick to familiar favorites you can cook with confidence—the truth is, most people enjoy having classic recipes on this holiday anyway.
The holidays are always their best when we can focus on the reason behind the fuss—the joy of celebrating special times with the people who mean the most to us. At Rachel Cho Floral Design, we have the privilege of using our expertise to make the special moments of our clients' lives beautiful, from holidays to weddings to baby showers and more. To find out how we can help with all your floral needs, big or small, contact us today.