The beauty of the outdoors has a timeless appeal for wedding couples. The gorgeous vista of a beach or the serenity of a garden may be the perfect setting for beginning your life together. However, no matter how naturally attractive the location, wedding flowers still play an important role in personalizing your outdoor venue to give it your event the depth and individualized meaning that such an important moment should have.
An outdoor wedding may take place somewhere where there isn't a well-defined ceremony space. Flowers can help provide the visual definition and focus to arrange the area so that it feels purposely made for your vows. At the front, an arch, arbor, or wedding canopy decorated with flowers gives you a picturesque backdrop for exchanging your vows. Using natural materials, cascading vines, and an asymmetrical arrangement can give such a structure a woodland feel, or you can opt for a more tailored appearance to give it the air of a formal garden. Alternatively, a pair of large floral arrangements flanking the front of the ceremony space can give a similar feeling of purposefully setting apart the area.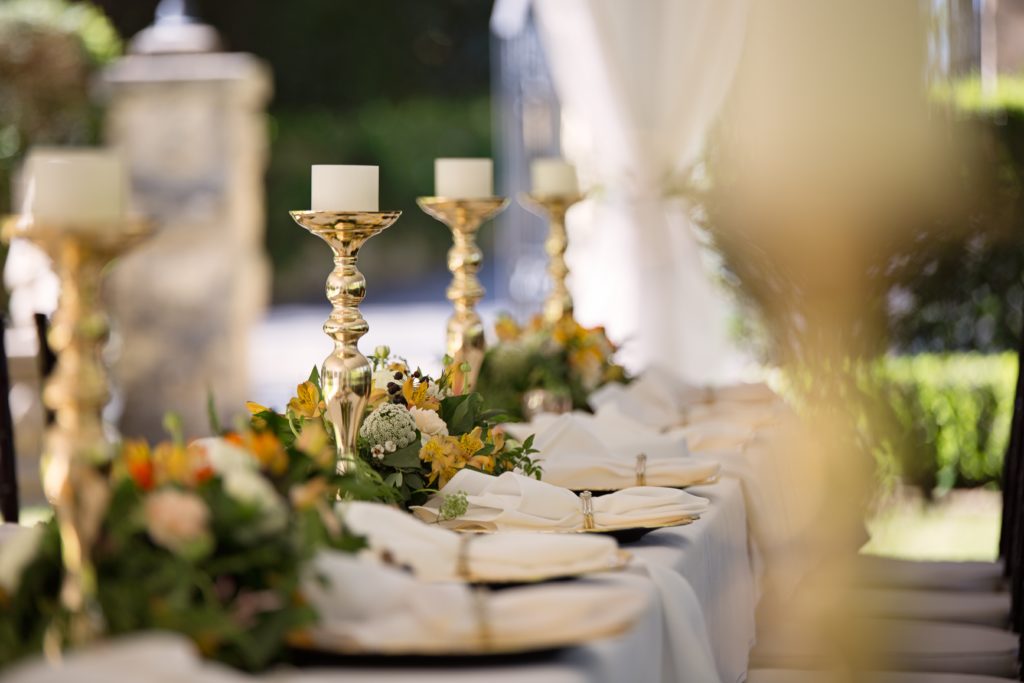 Flowers can be used in the seating area as well to embellish the aisle. Think bunches of flowers tied to the chairs, a garland run down the length of the aisle draping from seat back to seat back, rows of small arrangements at ground level flanking either side of the aisle—the possibilities can be endlessly individualized to your preferences. If your reception is taking place outdoors under a tent, flowers can be used creatively to embellish poles and struts underneath the canopy to beautify these structural elements.
Another consideration in planning an outdoor wedding is that the ceremony space, reception area, or both may not be immediately visible from where your guests enter the venue. A series of floral arrangements coordinating with your theme, accompanied by attractive signage or simply laid out as a path, can help guide them every step of the way. By the same token, a flower-bedecked welcome table can help assure them that they've found the right spot. The arrangement from this table can be moved to your reception area after your guests have all arrived to serve double duty.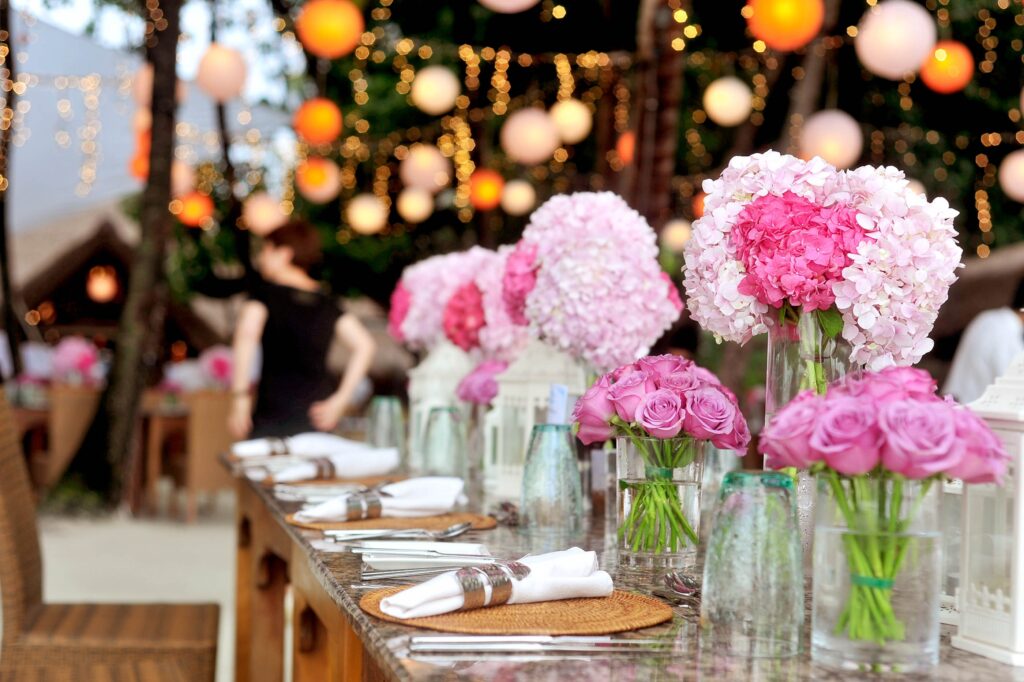 An experienced wedding florist can help you envision the possibilities for flowers in your outdoor wedding that will harmonize perfectly with your chosen venue. They can also help give advice about the best kinds of blooms to choose for the season and the location. Temperature, wind, and intense sunlight can be daunting for more delicate flowers, but a knowledgeable pro can recommend flowers that will look fresh from the first strains of the processional until the final guests depart.
At Rachel Cho Floral Design, we work with every wedding couple to produce noteworthy floral décor personalized to their unique vision. From the first meeting until your dreamed-of designs become reality, we provide attentive, collaborative service. To find out how we can help with all your floral needs, contact us today.