Growing up we always dream of that special day. We think about the "something new, something old, something borrowed and something blue", but most of us don't put the time or effort into considering all the tiny details of everything we need for our wedding day. One thing is for certain: Planning your wedding makes the days pass like minutes. Yet you still haven't decided what you want your centerpiece to look like. Following your heart doesn't really seem to work when you don't know what you're looking for. That's why we have collected our top 4 favorite wedding centerpieces to give you some much needed inspiration!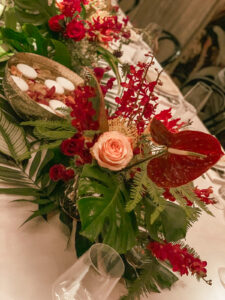 In need of a little Vitamin Sea?
Having a tropical centerpiece with a water element will bring a breath of fresh air to your wedding table. The combination of anthuriums, orchids and palm tree leaves will make your mind travel off to exotic locations. With our tropical centerpiece we wanted to explore the feelings of freedom and relaxation. No better way to fall in love with yourself and your partner all over again, than in the feelings of salty air and the smell of fresh flowers. Could this be your dream centerpiece?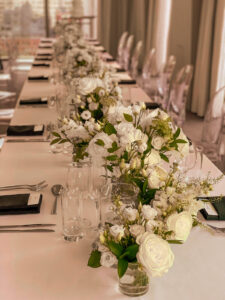 Don't think twice, it's all White!
Do you dream of a royal wedding? Going for an all white centerpiece theme with touches of green will give your wedding table a timeless look. Classy and classic, the perfect combination. Known for symbolizing eternity, white roses will make it feel like all eternity is in your moment. Bringing in this white centerpiece will not only give your wedding the royal feeling it deserves, but will also send your imagination into green tall gardens full of white roses. What a dream.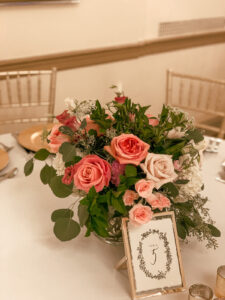 Elizabeth Bennet & Mister Darcy type of Love
We all love love! Have you dreamt of living that moment from pride and prejudice with your significant other and being Completely, Perfectly, Incandescently Happy? Well, look no further! Adding a romantic bouquet with warm pink roses will make your wedding table feel like it came straight out of a classic, regency romance novel. Can't think of a dreamier centerpiece to bring out the hopeless romantic in you.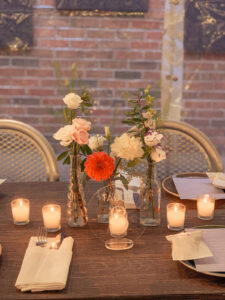 Playing with Fire
Don't be afraid to mix and match! Mixing your favorite flowers in small clear vases under the candlelight is the way to go for that sweet and warm feeling on your wedding table. If you close your eyes and smell the flowers, you'll feel the mountain air grazing your skin as you walk care-free into your future. Find the flowers that best represent you and your partner and just go for it. This is your day, you make the rules!
Although we love all of the above options, it's normal to not have your heart set on a specific centerpiece just yet. Making a choice about anything wedding-related can be really stressful, so try not to overthink it. Inspiration comes when you least expect it! Take a deep breath and everything else will follow. You will make the right decision for your special day when the time comes. 
At Rachel Cho Floral Design, we join forces with you to design a tailor-made floral experience that will be remembered for years to come! Take a look at some of the breathtaking weddings we've designed over the years, by scrolling through our portfolio.