When you're enjoying the return of sweater weather and the hint of crispness in the autumn air, you might not automatically think of flowers. After all, we traditionally associate spring and summer with the most bountiful times for blooms. However, not only are there plenty of beautiful fall flowers available to decorate your home or office, but they are also a great way to fend off a sense of gloom that might accompany shortening hours of daylight and cloudy weather replacing summer sunshine.
Nature offers a catalyst for creativity in the forms and colors of flowers and foliage in each season, and fall just might produce some of the best contrasts and interesting juxtapositions of any time of year. Autumn is a time of harvest and plenty, a feeling that you can evoke by including ornamental grasses, branches of berries, and fruits such as pomegranates in the mix in your arrangements. Combining different textures provides visual interest, and expanding your palette beyond flowers gives you a wider range of beautiful elements to include.
Chrysanthemums are a long-lasting flower suitable for anchoring many an autumn arrangement, because they come in a wide variety of sizes and forms that can suit almost any style. Available colors range from their original golden hue through white, bright yellow, pale green, red, orange, and even purple. Some resemble daisies and others pompoms, while generously sized spider mums have full heads of long, narrow petals. With care, chrysanthemums will stay fresh in a vase for up to 14 days.
Cymbidium orchids are another flower that you can enjoy for weeks on end in a cut arrangement. They're found in a range of shades from white, cream, yellow, and green to pink, apricot, burgundy, orange, and brown. That means you have choices that fit traditional autumn-hued arrangements, or options to go in a different direction entirely if a red-orange-yellow-brown palette isn't your thing. These are particularly hardy cut flowers, lasting up to a month in a vase.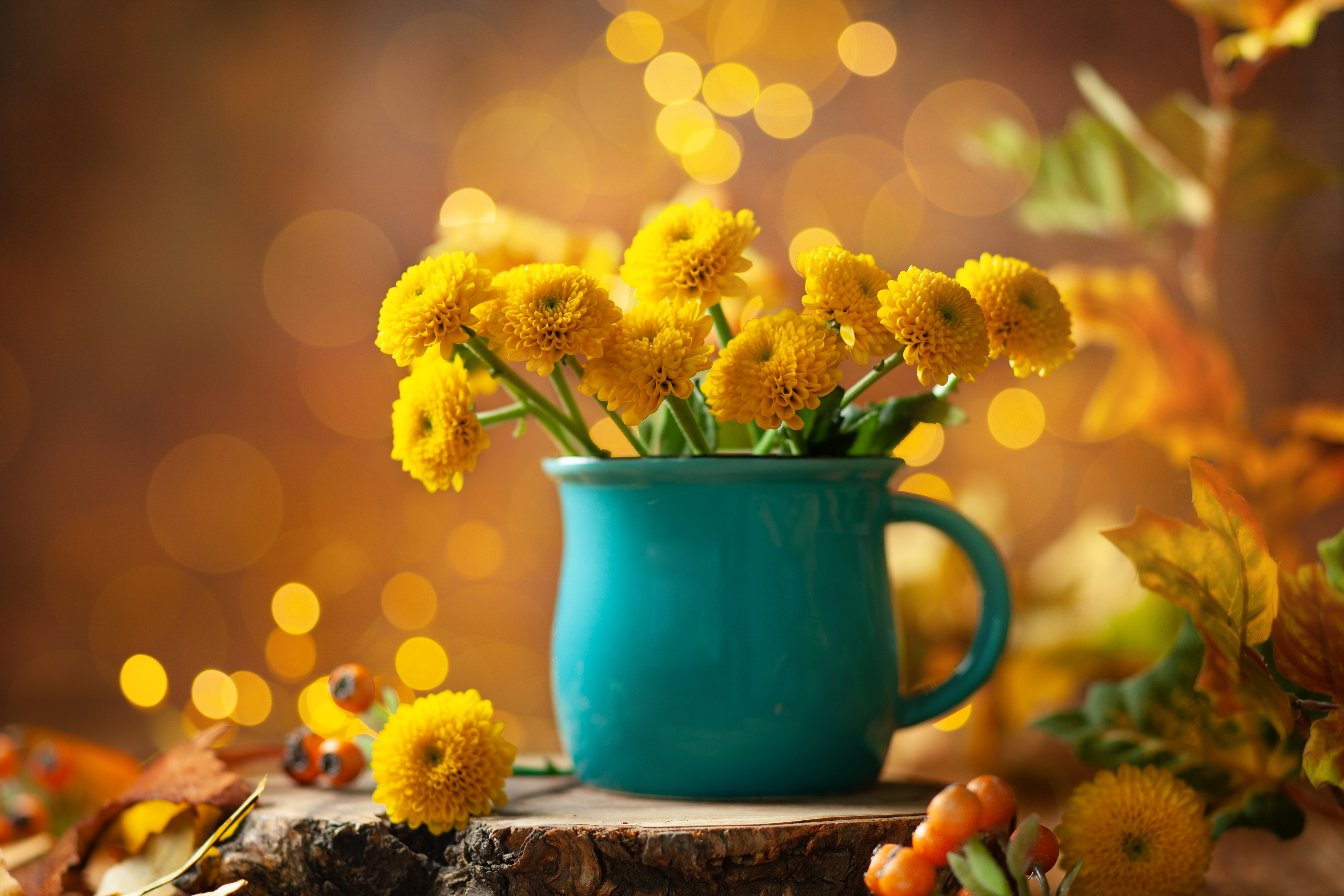 Of course, these are only two examples of long-lived fall cut flowers. A professional florist can help suggest others that will fit your décor and occasion. One favorite for this time of year is antique hydrangeas. These striking blooms are not a different species from the abundant blossoms we see earlier in the year—the flowers are simply those that have been allowed to mature on the plant. As a bonus for waiting for the charming, mellowed hues of the antique variety to develop, this type of hydrangea has significantly better vase life than its fresh-cut counterparts.
At Rachel Cho Floral Design, we make it our business to move with the seasons to produce the freshest and most inspired arrangements possible. Whether you're looking for a bouquet or a full event design, we put our expertise to work to make your vision a reality. To find out how we can help with all your floral needs, contact us today.