With warmer temperatures and longer days firmly established, summer is prime season for enjoying flowers. Many favorites come into bloom during this time of year, and you'll have no trouble finding a profusion of healthy blossoms to choose from. Although this is by no means a list of everything you'll find available, a few you to look out for when you're deciding what to pick are:
Peony: Early summer marks the end of peonies' blooming season, so you should enjoy a bouquet of these lush blooms while you can. These generous blossoms come in every color except blue, and depending on the variety, can be as big as ten inches across. With their layers upon layers of petals and lovely fragrance, it's no wonder they're perennially popular with June brides.
Zinnia: Zinnia is another flower that gives you countless options for size, shape, and color. They range from smaller blossoms that resemble pom-poms, typically one-and-a-half to two inches across, up to larger varieties that can be four to six inches in diameter. With proper care, they can last two weeks as a cut flower.
Wildflowers: Summer is a wonderful time to see the beauty Mother Nature offers naturally in the form of wildflowers. For example, chamomile, which you might be more familiar with as a soothing herb, has petite blooms that resemble daisies, with bright yellow centers and white petals. Queen Anne's Lace is another lovely find of the season, with its large heads of clustered tiny white flowers. It's delightful to discover calendula, cornflower, echinacea, and more at the farmer's market flower stands throughout the season—enjoy mixing and matching them throughout the warm months.
Scabiosa: This member of the honeysuckle family has flowers that look like pincushions fringed by frilly petals. It can be found in reds, blues, purples, and pinks, and the blossoms can grow up to three inches. For longest life in a cut arrangement, keep these away from direct sunlight and extreme temperatures.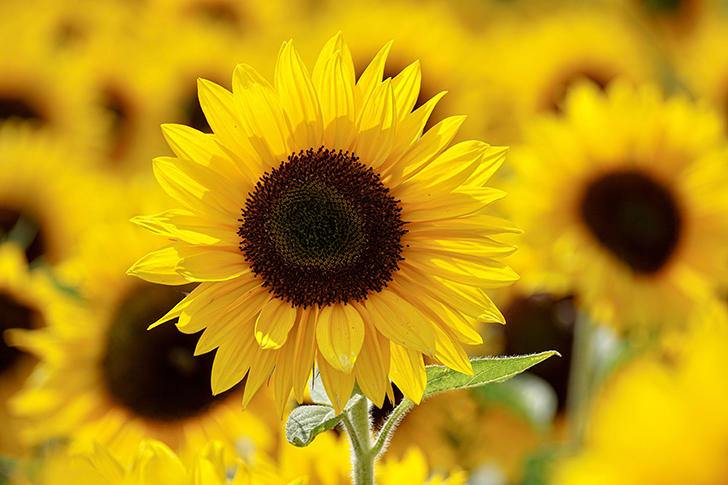 Sunflower: Though you might automatically think of giant sunflowers, with their huge dish-like blossoms and towering stems, when you call this flower to mind, there are actually many different types of sunflowers that make attractive cut flowers. Their petals can range in hue from bright yellow through red, and they come in single or multi-branched varieties.
Nigella: This flower is commonly known as Love-in-a-Mist, because its delicate fern-like foliage forms a cloud of greenery around the flowers. Its most well-known variety has delicate blue flowers, but it can also be found in white or pink.
Larkspur: This annual flower produces graceful stalks of blooms in shades of blue ranging from a pale sky blue to a deep navy. They can also be found in pink, white, and red. You can keep these looking neat longer by removing any faded flowers from the stalk. Unfortunately, larkspur are toxic, so don't bring these home if you have pets who like to snack on foliage.
You won't lack for inspiration during the summer months—just perhaps time to experiment with all the different kinds of flowers available! At Rachel Cho Floral Design, we love using the freshest seasonal blooms to bring new, vibrant designs to our customers every day. Contact us today for help with all your floral needs, big or small.