Dining out is about more than just grabbing a meal, which is why restaurants carefully craft their décor to help create an experience that will bring customers back again and again. Plants can be a vital factor in adding beauty and freshness to an indoor environment. As one of the hottest trends in restaurant décor, succulent walls are a stylish yet practical way to make your ambiance noteworthy.
What makes a succulent wall a great addition to a restaurant? First, adding plants to an indoor space has well-known health benefits, reducing stress, boosting mood, and purifying the air. Thus, including plants in your décor is a great way to help your patrons feel relaxed and at ease while they're in your establishment. Surrounding your guests with greenery can also evoke a sense of being outdoors, even when the weather or the immediate neighborhood may not be ideal for dining al fresco. Although a significant display of plants enhances any restaurant environment, it pairs especially nicely with an emphasis on fresh ingredients or a farm-to-table menu to neatly tie together your theme and décor.
In addition, succulents themselves are an excellent choice for a restaurant environment for what they don't have. Unlike other types of houseplants, they aren't prone to dropping leaves or releasing pollen, and they don't produce strong fragrances that might be attractive to some but off-putting to others. You can safely include them without fear of a sensitive diner suffering an allergy attack.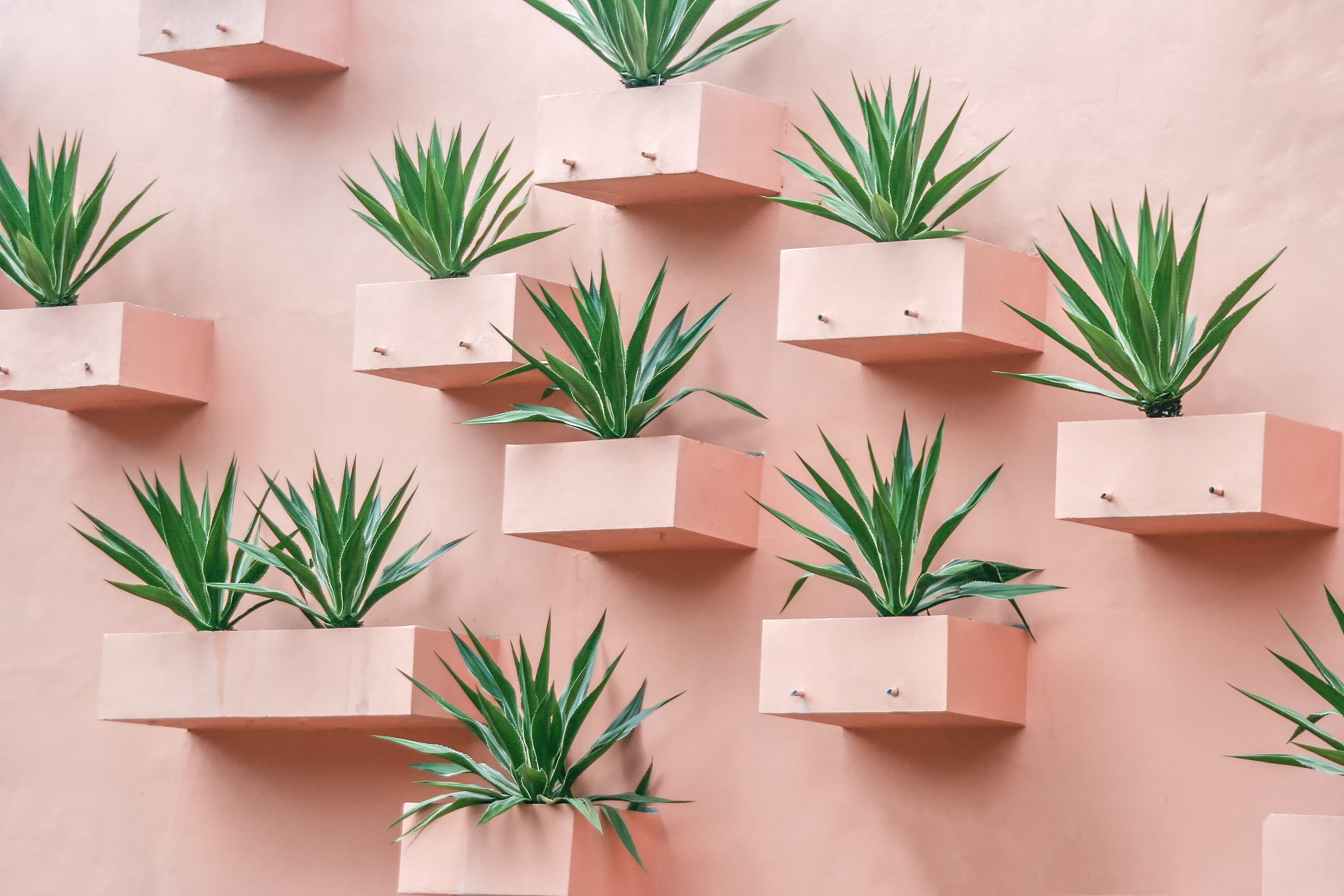 A succulent wall, unlike simply scattering plants around in pots, is both space-saving and visually impactful. With real estate always at a premium in New York, using every square inch of your space wisely is not optional. Why sacrifice room on tables, on counters, or in corners when you can take your succulent display vertical, giving you a larger, more dramatic canvas to display colors and textures? As a bonus, a succulent wall provides an Instagrammable focus for your customers to throw your restaurant some social media love.
Keeping live plants maintained is a significant part of using them successfully in décor, which is another area in which a succulent wall shines. Succulents do not need (and usually don't want!) direct sunlight or frequent watering, making them easy to care for and ideal for indoor use. Their ability to store water in their leaves and/or stems means that these low-maintenance plants can tolerate a fair amount of neglect. Of course, "low maintenance" does not mean "no maintenance"—your best bet for a long-lasting, beautiful succulent wall is to consult with a knowledgeable florist who can design your display with plants well-suited for your particular environment and provide advice and periodic service to keep it looking fresh.
At Rachel Cho Floral Design, we know that attention to detail is a critical factor in setting successful hospitality businesses apart from the crowd. We have the expertise you need to design, craft, and maintain a head-turning look for your establishment. To find out how we can help with all your floral needs, contact us today.