Have you had the frustrating experience of buying beautiful flowers from the farmer's market and not being able to turn them into the bouquet you envisioned once you've gotten them home? Chances are, a big part of the problem is the materials you have (or don't have!) to work with. An essential part of creating a truly top-notch floral arrangement is having the correct tools to do the job. Here are some of the key items professional florists use every day: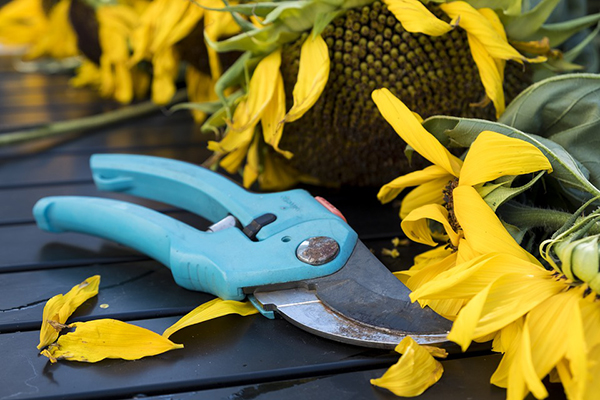 Cutting tools: Yes, florists use multiple tools for cutting! It all depends on what needs to be cut.
Floral clippers: Floral clippers cut through stems without pinching them, which helps preserve flowers' ability to take up water. To be effective, these should be quite sharp. (Note: Professional florists will often use knives to cut stems, but unless you've learned the proper technique, I don't recommend trying this at home, for obvious safety reasons!)
Pruning shears: For thicker, woodier stems, you'll need a pair of pruning shears. Avoid anvil-style shears, in which the blade cuts the stem against a flat surface—this will crush it.
Wire cutters: If you intend to use a floral wire (see below) to help craft an arrangement, you'll want to have a pair of wire cutters handy. Cutting wire with your clippers or shears can ruin the edge of those tools pretty quickly.
Fabric scissors: These are a must-have for cutting a ribbon, tulle, or any other fabric elements you might want to include in an arrangement. Don't use these for cutting anything else, as that will ruin the sharp edge necessary to produce clean cuts in your fabric.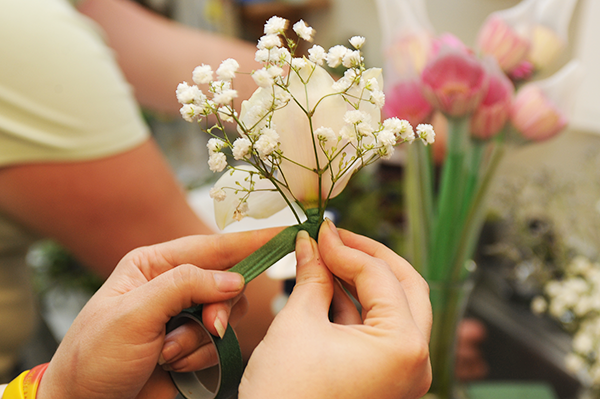 Design tools: Florists use a variety of items to keep flowers perfectly in place in an arrangement. Here are just a few.
Floral foam: This absorbent foam helps to position and support flowers' stems and keep them hydrated. It can be cut to fit the size and shape of the whichever container you use for your flowers. (Note: since it's usually green, floral foam is used in opaque containers.)
Frog: A frog is a heavy metal base covered with upright pins, which are used to secure the ends of flowers at the base of a container. The frog itself is secured to the bottom with waterproof floral adhesive. The frog holds stems upright and is a good alternative to foam for clear containers.
Clear waterproof tape: This tape can be used to create a grid at the top of your container, perfect for invisibly holding stems in place, or to hold the floral foam in place.
Floral tape: This paper tape, which is covered in wax so it sticks to itself when stretched, is used for boutonnieres, corsages, bouquets, and wreaths. It comes in half-inch and one-inch widths.
Floral wire: Floral wire is used to support stems and give structure to various kinds of floral arrangements. It comes in a variety of gauges—the higher the number, the thinner and more flexible the wire. It's usually found in green, to help camouflage it among flowers and foliage.
At Rachel Cho Floral Design, we put our tools, techniques, and experience to work every day to realize our clients' vision. Whether you're looking for a head-turning arrangement or an inspired event flower design, contact us today for individualized service.