A wedding starts in the ceremony space, whether that's a place of worship, a rooftop terrace, a banquet hall, or a shady clearing in a park. Your guests gather to see two loving people pledge to share their lives together from that day forward. Wedding aisle flowers are a perfect way to set the mood you intend from the very first moments of the celebration when the wedding party walks up the aisle. There are many different ways to use floral décor to embellish your aisle—the perfect choice for your wedding will be as individual as you are.
As with the rest of your floral decorations, wedding aisle flowers can be as lush or understated as you desire. For a coordinated look throughout your event, they should share elements with your table centerpieces, bouquets, or other floral arrangements. For example, you can use a selection of the accent flowers and greenery from your centerpieces to compose aisle markers tied to the chairs for a low-key extension of your theme.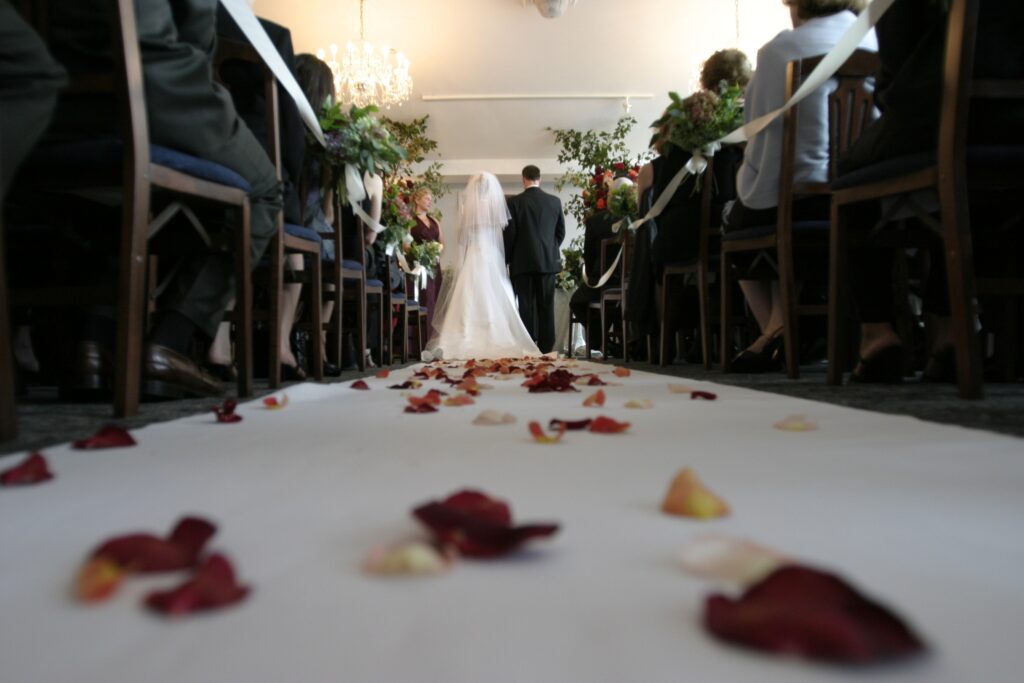 Arrangements attached to the chairs along the aisle can be as simple as bunches of fragrant herbs tied with twine or as elaborate as bouquets trailing satin ribbons. Another striking option is to extend a greenery garland down both sides of the aisle, draped in gentle curves between each row or even every other row. Either a garland or separate arrangements can be styled to harmonize with any type of wedding theme, whether you're going for a colorful boho look or monochromatic minimalism.
You can also place flowers at the floor level in the aisle itself. Flanking either side of the aisle with a continuous row of arrangements gives the effect of walking in through a garden, which can be particularly dramatic in an indoor space. Consider interspersing floor-level arrangements with lanterns or candles in tall clear vases to include romantic candlelight (LED votives, tea lights, or pillars will work if your venue prohibits open flames).
Aisle décor can be chosen with practical considerations in mind as well. If you want to reserve the center aisle for the wedding party's entrance and exit, for instance, a garland or other continuous type of floral arrangement gently signal to your guests that they should enter the rows from the outer aisles. Large arrangements can be moved to your reception space to serve double duty after the ceremony is done.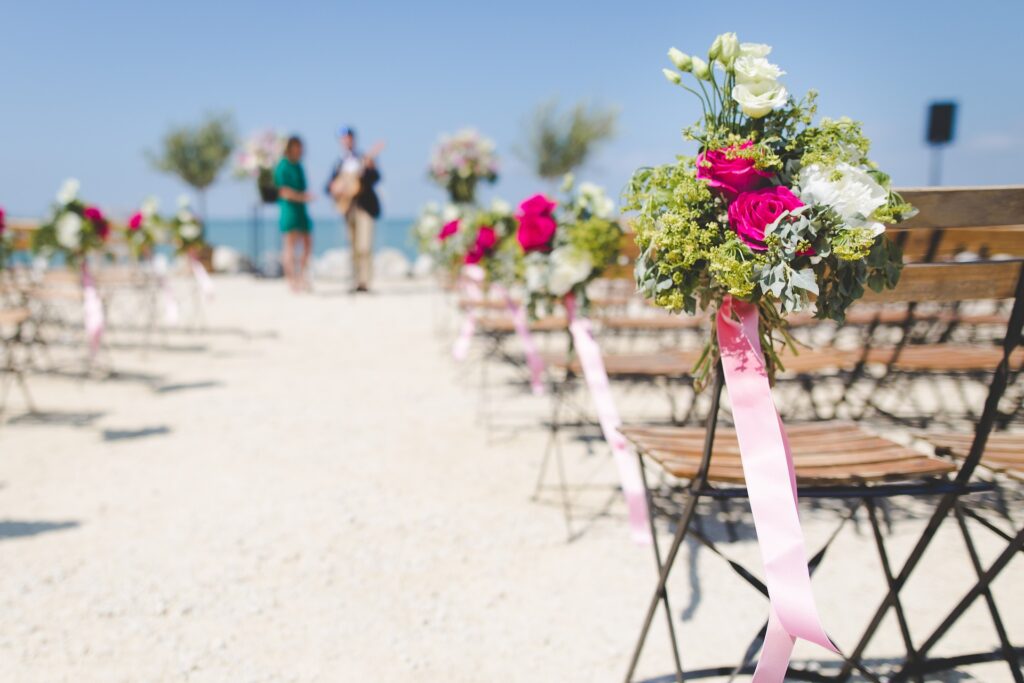 Again, the feeling you evoke with your aisle decorations will vary considerably depending on the flowers and colors you select. A wedding designed around a vivid rainbow of tulips will feel different than one with pastel-hued peonies, ranunculus, and roses or one featuring an all-white palette of calla lilies and orchids. An experienced florist can help you design aisle decorations that fit both your ceremony space and your design aesthetic for an end result that is uniquely yours.
At Rachel Cho Floral Design, we work with every wedding couple to capture their vision of their special day. From the first meeting to the finishing touches, we provide attentive service and dynamic, original designs to all our clients. Contact us today for a personalized consultation.