Is your company launching a new product or celebrating an anniversary? For every big milestone your company hits, celebrating is a must. Have you been trying to find ways to elevate your corporate event floral decorations? Today is your lucky day! We have gathered some of our favorite event flower decorations to give you a glimpse of what your event could look like!
Age is just a number
Celebrating the creation of your business is so exciting! Whether it's your 1st or 30th year as a company, a great way to elevate your event is by displaying the year you're celebrating with flowers in the shape of the number. A great idea is to implement your company colors in the flowers used.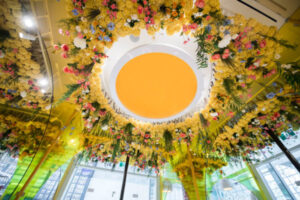 Make it Rain… Flowers
One of our favorite ways to brighten the space you're hosting your corporate events and embellish high-ceilings is by hanging flowers. For this event we took inspiration from the yellow ceilings and added yellow flowers with pops of pink and green to complement and bring it together.
Pro tip: Don't be afraid to go for contrasting color combinations.
Show us your ID
 Staying in theme with the shapes this next flower decoration idea for corporate events is one of our most loved. Creating floral arrangements in the shape of the company logo showcases a brand's identity beautifully. For this event we mostly used greenery and added a touch of pink with flowers on both ends of the logo and kept a tropical theme with the background.
Lay them in a bed of flowers
Are you celebrating a new launch or the success of one of your already existing products that is thriving ? Then this might be the decoration idea you were looking for. With this decoration we decided to go for a gradient effect in the color palette of the product. Best part about it is you can completely customize it and choose any color and flower combination you want!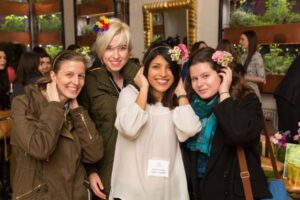 Party Favors
Flower crowns are one of our favorite party favors. You can have endless combinations of flowers and people can get to choose what goes best with their outfits. Our favorite part about having flower crowns is that you will get some amazing photos at the end of the event with big smiles like this event here.
We hope to have given you inspiration for decor ideas that can be used to elevate your corporate event. From flower ceilings to crowns we believe that flowers are the key to a successful event when it comes to decorations. 
At Rachel Cho Floral Design, we are known for our expert design sense and careful attention to detail. From weekly subscriptions to fundraising galas, we execute each project seamlessly with characteristic grace, poise, and creativity. If you're curious to see more of our corporate projects, please visit our portfolio here.