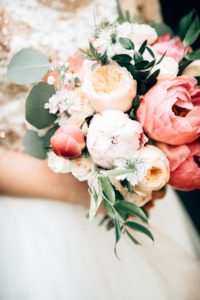 While the trends may come and go, flowers are a fundamental part of any event or wedding – and for good reason. Whether you imagine an airy day or a splashy bash, floral décor is essential to upgrading your space into a site worthy of a once-in-a-lifetime celebration. That's why choosing the right flowers for your dream day can feel so significant. 
Working with your wedding florist is an enjoyable and important part of the planning process, but if you don't know how to pick wedding flowers or where to even begin, the task may feel less like a bed of roses and more intimidating than you'd thought. So, how do you find the perfect fit when you're no pro? Take a deep breath, relax, and pour yourself a glass of wine. With these tips, choosing your flowers will turn into a fun and special process in the lead up to the big day.
Create a Floral Budget – Sky's NOT the Limit
This is the first and most important step for choosing the right wedding flowers. Your overall wedding budget will determine how much money you can save for your flowers, so sit down with your partner and agree on what you're both comfortable spending. From what we've seen, most couples spend around 7% of their total budget on flowers, but that amount can change since it depends on the types of flowers you order and how many arrangements you need. FYI, stunning florals can really go a long way! Cut back on other areas of your budget if you're all about flowers, but if flowers are trivial to you, prioritize how you' d like to include them. Focus on the musts, like a floral arch as a focal point, bouquets, and table centerpieces. The Ultimate Wedding Flower Checklist will help you allocate your floral budget. 
Hire a Florist, ASAP!
Unless you're confident about making your own bouquets and finding your own wedding flowers, it's absolutely recommended that you get yourself a professional florist. They'll help make your dream wedding happen! They'll also be a lifesaver when it comes to providing professional input and helping you make tough decisions, like choosing between garden roses and peonies.
Some advice on hiring a wedding florist:
Book in advance! Get a florist as soon as you start the planning process. That way you can secure your florist in time and they can help make your vision come to life. 

Ask friends, your venue's manager, and your planner (if you have one) for recommendations. Also, do your research! Scroll through Instagram feeds to see the work they've done as well as their portfolio (no two florists are alike!). Can they achieve the look you're going for? 

Describe in detail what you've envisioned your wedding flowers will look like, as well as your theme, color scheme, attire, and venue to better inform your florist.

Above all, hire someone you communicate well with.
Get Inspired 
Begin by going over the latest wedding flowers trends, or browsing shoots from real weddings and Pinterest. Visit your favorite platforms, magazines, and movies to find inspiration that highlights your personality. Through research you'll find what you like or dislike. Make mental – or written- notes including your favourite colors, shapes, textures, and style, and share them with your florist to guide them while they make magic. You can source inspiration from unexpected places, too! Check out your local market's aisle with the fresh flowers, or ask your relatives about the flowers they used at their weddings. So long as you can communicate your general vision to your florist, he or she will take over from there.
PS. Keep in mind that Pinterest is filled with photos of lavish florals that aren't practical for a realistic wedding. Be ambitious, but at the same time keep your feet on the ground throughout your floral inspo pursuit!

Flower-cation
It's time for some flower education! You don't have to become an overnight floral expert on wedding flowers, but having some basic knowledge of the varieties of flowers you want will be extremely helpful in communicating with your florist and achieving your dream florals. Take a moment to familiarize yourself with popular wedding flowers (roses, peonies, hydrangeas and lilies are just a few of them), as well as current trends. This will be a time – saver in the long run. 
At Rachel Cho Floral Design, we join forces with you to design a tailor-made floral experience that will be remembered for years to come! Take a look at some of the breathtaking weddings we've designed over the years, by scrolling through our portfolio.