August is the time of year when summer is drawing to a close, and we're all contemplating life returning to a faster pace: vacations over, school days starting again, and hot days cooling down to the crisp temperatures of autumn. Those who celebrate their birthdays in August can enjoy the last moments of languid summer freedom before that happens, though. August birthdays are also marked by the month's birth flower, a flower with a fascinating history of associations.
Although we're most likely to think of a single-petaled red bloom when we call an image of poppies to mind, this flower comes in many different varieties and forms. For example, the California poppy is a sunny orange single-petaled blossom, while Carnation Poppies are four inches across with a full frilly head of petals. In fact, there are 70 different species in the genus Papaver, which are native to temperate zones. Poppies come in both annual and perennial varieties, but both kinds prefer warm, sunny garden locations. Many types are wildflowers that self-seed prolifically, making them a favorite among gardeners.
In mythology, poppies were associated with rest and sleep. (A more contemporary reference to this connection can be found in The Wizard of Oz, when Dorothy and her companions are lulled to sleep in a magical field of poppies.) This was likely due to the medicinal properties of Papaver somniferum, the type of poppy from which opium is produced. These flowers also produce edible seeds that are used in many foods, especially baked goods.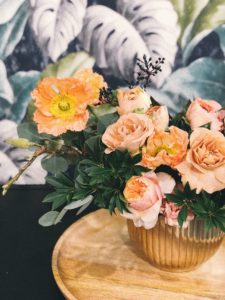 In modern times, poppies became known as a flower of remembrance. After World War I, the flower was chosen by the allied nations to honor the sacrifices made by soldiers, due to the spectacular display of red poppies that returned to the fields of Flanders after four years of unrelenting war, which were memorialized in a famous poem by John McCrae. To this day, it is common for people to wear poppies on Remembrance Day in Western Europe or Memorial Day in the United States.
Depending on the variety of poppy, they may be best enjoyed in the garden, as many types have a fleeting vase life, at best. This is caused by the latex sap they exude, which blocks water uptake. The time you have to enjoy them in a cut arrangement can be extended by dipping the cut stems in boiling water or searing them with an open flame, changing the water frequently, and keeping the arrangement in a cool location.
If you're looking for extraordinary flowers to send a special message, Rachel Cho Floral Design can help. We stock only the healthiest, most vibrant blooms, which we use to craft inspired, eye-catching arrangements. Whether you're celebrating a birthday, marking a life event like a promotion or engagement, or simply bringing beauty to an ordinary day, you'll enjoy the utmost in floral expertise, gorgeous flowers, and attentive customer service. To find out how we can help with all your floral needs, contact us today.