Either if you're planning a small wedding and you're looking for cost-effective ideas, or you simply want to put your DIY skills to the test. DIY boutonnieres are the best choice to try out in both cases. They add a small yet elegant touch to your wedding and are super quick, simple, and fun to make, plus they come with endless options of supplies & materials to choose from.
So let's take a look at the 4 easy steps you can follow to create your very own gorgeous wedding boutonniere for your special day.
How to make a Boutonniere
1. Find inspiration for your wedding boutonniere and choose the right blooms
Before you start a DIY boutonniere, you need to have a clear vision of how it should look like. Think of the overall flower design of your wedding. What's the color palette? Would you like your boutonniere to consist of matching or complementary colors and textures? Whatever you choose, prefer to stick to 2 to 3 colors. It's always nice to include lots of colors, but try not to overdo it.  
As for the main flower of the boutonniere, a good choice is mostly flowers that are not fragile and do not get easily wilt. You want them to remain as fresh and alive as possible to last through the whole occasion. To add some extra touch, you can use greeneries, small leaves, or other blooms, according to the color palette you've chosen.
Apart from the flowers and greeneries of your choice, to make your beautiful wedding boutonniere you'll also need:
Flower Tape
Wire 
Flower Cutter
Wire Cutter 
Ribbon – to decorate your boutonniere 
Pearl Pins
Once you've chosen the flowers you want to use for your wedding boutonniere, you need to make them easier to work with. 
Start by taking off any excess thorns, damaged petals, or foliage. If there are parts you could use on your boutonniere though, such as any green leaves, don't throw them away! 
Then using the flower cutter cut the stem of the flowers at a length approximately between 1-3 inches, depending on the length that fits the size of your boutonniere. 
After you've trimmed and cut your flowers, use some flower tape and start wrapping each stem tightly and downwards. This way you add stability and support to the stems. In case you're working with thin stems, put two or three of them together and secure them with some wire to create a thicker stem. Then start wrapping it the same way.
4. Place them all together
Here comes the fun part of actually making the boutonniere!
Take a leaf and/or any other greenery of your choice and place them behind the focal flower. Keep in mind though that they should not extend much on top of the flower but come out from the sides of it. Put them all together approximately the way you want them to look like as your boutonniere, place a long enough piece of wire behind the stems and start wrapping tightly with some flower tape.  
Once you're done wrapping, trim the final stem to the right size. Make sure that the stem is long enough to make it easy enough to pin the boutonniere on the groom's suit. For some extra touch at the bottom, you can leave some excess wire that's a little longer than the stems and twist it with a pen or a pencil. Then, wrap the final stem with some ribbon or make a beautiful ribbon bow, and secure it with some hot glue. 
Finally, take a pair – or more, depending on the weight – of pearl pins and push them through the base of the boutonniere to affix it later on the groom's lapel. 
Your special hand-made boutonniere is ready for the big day!
Here are some extra tips to keep in mind when DIY a boutonniere:
Always make sure to make some extra boutonnieres, both for the groom and his best men (it's best to have one extra ready for each one of them) in case the first one gets damaged or falls apart.
In case you're making the boutonnieres a day before, place them in short glasses and store them in the fridge to keep them fresh for the next day. But remember: not all flowers can hold up for 24 hours. If you're working with more delicate flowers you might need to prepare your boutonnieres on the day of the event.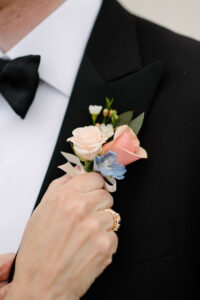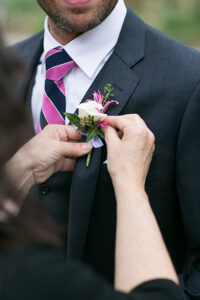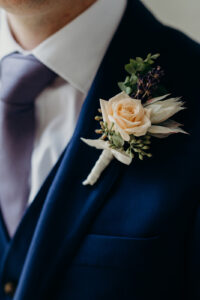 At Rachel Cho Floral Design, we pair our passion for original designs with our commitment to superior customer service. We work together with our clients to capture their vision with dynamic, unique arrangements.
Contact us today for help with all your floral needs. And if you're looking for more inspiration, feel free to browse through our wedding collection!