Like so much of wedding planning, deciding on your floral décor requires decisions that don't necessarily have a set right or wrong answer. After all, your wedding is an expression of your unique relationship with your spouse-to-be, so it makes sense that the flowers that suit one couple will differ from those that suit another. One of the biggest decisions you'll need to make regarding your wedding flowers is what kind of centerpieces to have at your reception. Should they be tall or short? As it turns out, the answer depends on the style of your wedding and where you plan to hold the event.
Just as the different types and hues of flowers you choose influence the overall feel of your floral décor, the height of your centerpieces will as well. Tall centerpieces create a sense of grandeur and drama—perfect if you're planning a formal reception. They are also a good choice if your venue is very large or features high ceilings, as the verticality of the arrangements will help to define visual space in a way that fills up the room.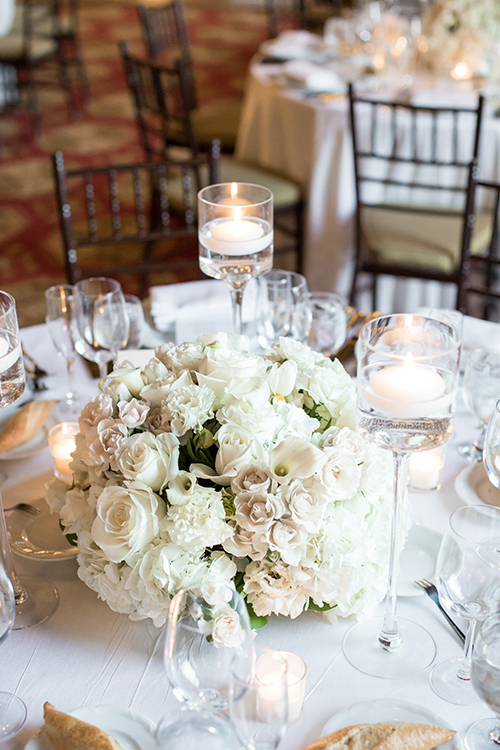 Short centerpieces may suit your event better if you are going for a more informal vibe, or if your event space is more intimate. The variety of low centerpieces is almost endless, from a greenery garland to clusters of small vases holding a bloom or two apiece to a gilded dish spilling a profusion of lush blossoms.
One consideration many people bring up when deciding between tall and short centerpieces is visibility. After all, you don't want flowers blocking your guests' ability to converse across the table. To avoid this problem, keep short centerpieces 12 inches tall or below, and keep tall centerpieces 24 inches or higher. A tall centerpiece that elevates its floral display well above your guests' eye line with a narrow clear glass vase or thin metal pedestal will present a minimal obstruction to socializing.
Table shape is also something you should consider when you're choosing your centerpieces. Round tables lend themselves easily to a single, central centerpiece, whether short or tall. Square tables leave more open space in the middle, which may call for a larger arrangement to ensure that the display looks proportional. For rectangular tables, a single centerpiece may not be enough to keep the table from looking bare. Consider a long, garland-type arrangement down the middle or a series of arrangements for a finished look.
Some wedding couples even combine short and tall centerpieces, using the contrast to add interest and variety to their floral display. After all, there is no rule that says you can't add an eclectic flair to your décor! If you're unsure which way to go, sit down and discuss the options with your wedding florist. Their experience can help guide you to the right choice for your style and venue.
Creating the individualized design that will make your wedding flowers unforgettable is our passion at Rachel Cho Floral Design. We put our expertise and dedication to attentive service to work for our clients every day, turning their visions into inspired reality. To find out how we can help with all your floral needs, contact us today.